How to Choose the Perfect OURRUO Shoes to Suit Your Lifestyle
OURRUO is a well-known shoe brand that is famous for its exotic products including shoes, bags, and wallets, etc. The company has skilled and expert designers who always bring new styles of shoe designs. It is not easy to bring new trends and designs for men because of their specific taste and limited resources. You can easily find a huge variety of female products, but male stuff is not easy to find because of limited production and brands. OURRUO is playing an essential role in introducing new trends on every new launch of their production. This shoe expresses your classy lifestyle, and most of the celebrities also prefer to buy alligator shoes from the company. Today, we are going to discuss how to choose Perfect OURRUO Shoes to Suit Your Lifestyle. Let's check out.
Few tips on how to select the perfect shoes:
Here are the common and easy tips for selecting the perfect shoes.
Always buy the shoes after trying it because sometimes size and comfort level is different from expectations.
Consider the price of the shoes and check it from different platforms.
Never compromise on quality because it might charge more, but the genuine product has many benefits.
Do not compromise on comfort because if the shoe is not comfortable, it will bring other physical issues as well like swelling, joint pain and many others
Choose OURRUO for its high-quality products and service.
Here we have some of the best shoes from OURRUO's; you can select any of them.
1. Alligator Skin Slip-On Dress Penny Loafers:
OURRUO is best known for its men's footwear. The company has made alligator shoes that are originally manufactured from alligator skin leather. The lining and outsole of the shoes are made up of leather, and it comes from Italy only for shoemaking. The Alligator Skin Slip-on Dress Penny Loafers are available in different colors as well. Let's check out the features of it.
Quality:
The company is never compromising on material and its production. The fine quality leather comes from the private farms of the manufacturers where they harvest alligators for the purpose of shoe and other accessories of leather. In short, the OURRUO is the name of quality and class.
Durability:
After significant quality, another feature that does matter is its durability. There could be loads of brands and shoes accessible in the market yet; this item is the most solid Alligator Skin Slip-On Dress Penny Loafers among all. The main thing behind this feature is the quality of its material. It is made with great quality material so it can long keep going for a long time.
Colors:
You can also buy these loafers in different colors. The available colors are Blue, Burgundy, Black, and Tan. You can buy any of your favorite colors from the market or online store.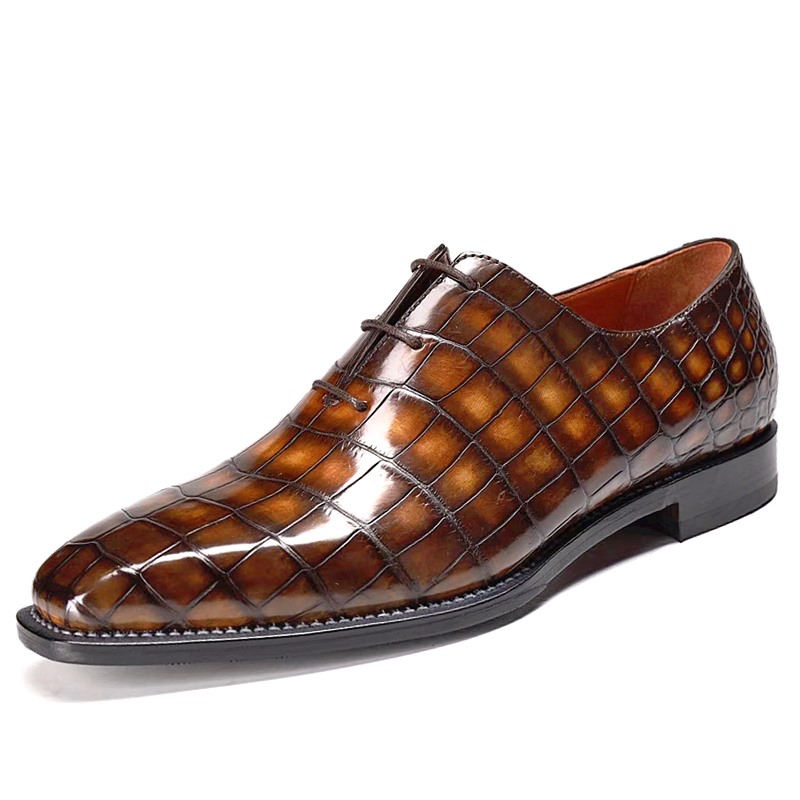 2. Alligator Leather Wholecut Oxford Shoes:
The whole cut oxford shoes are famous in classy people. Most of the buyers of this shoe have a great taste of selection. This shoe is right now available in the market, but its demand is higher than its production. This shoe is enough to enhance your personality. Let's discuss the feature of this fantastic pair of shoes.
Made of alligator skin leather:
The leather whole cut shoes are made of full-grain leather, which means there is no addition of any type of artificial stuff in the making. The pattern of the shoes is also original and enhance by polishing and the way to bind the shoe.
Handmade:
These astonishing shoes are manufacture by the professional and expert designer team of the company. They beautifully bind the shoe and also add design it. They try to give it another look and add a new look in traditional design. The excellence of high-class expertise can be seen easily.
Availability:
It is available in the market, but it's a limited edition, so you need to harry if you want it. Moreover, you can buy it in any of the available three colors like Tan, Burgundy, and Gray. You can also order it online from the official store of the company.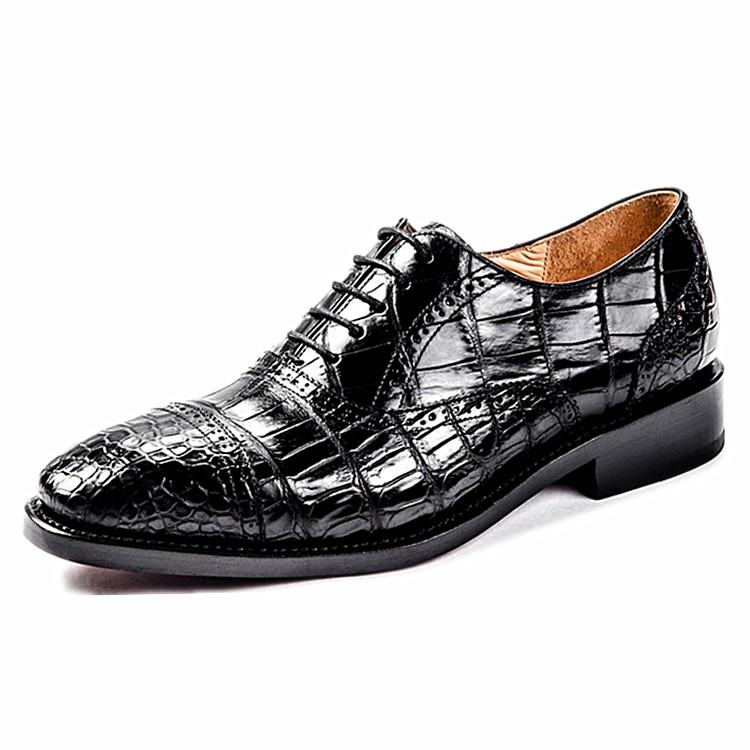 3. Alligator Cap-Toe Oxford Dress Shoes:
The Alligator Cap-Toe Oxford Dress Shoes is one of its kind because there are no other shoes that can compare with its quality and look. The high-quality material of the alligator leather makes these shoes the best accessory of the man. Let's check out the features of the shoes.
Formal Shoes:
This Cap-Toe Lace-up Oxford shoe is best for formal use. It can be used for work or meetings. If you can say it's a multi-functional shoe, there is no argument against it. It can be used in parties, meetings, and even weddings. Enjoy wearing it at every event. It's not formal shoes but casual as well.
Goodyear Welt:
Over 200 steps are taking to check the quality of the shoes. Moreover, the Goodyear Welt gives strength to the shoes and increases its durability. Therefore, this formal shoe is best for parties and local business meetings. Moreover, the shoe has a water-resistance feature as well. You can wear this shoe in the rainy season.
Available color:
Alligator Cap-Toe Lace-up Oxford Dress Shoes comes in two different colors. You can buy it in black color or in brown; both colors have their specific grace and look. If you want it to order from an online store, make sure to select the accurate size of the shoes.
Bottom line
The company produces exotic shoes for males. You can select any of the designs from the alligator range. The price of the shoe is not affordable for all the people, but once you buy it, it will be your one-time investment. The shoe will last for many years, and the quality of the leather will never change after the usage of a few years. Some of the shoes are handmade and only available on the official store. This limited edition sells out as the company displays them.